PowerBI & CarePlanner – Yes we can
There's more to reporting than just downloading spreadsheets to fiddle with. We've written the extracts to bring your CarePlanner data into PowerBI or any other data visualisation software.
Here's a small example: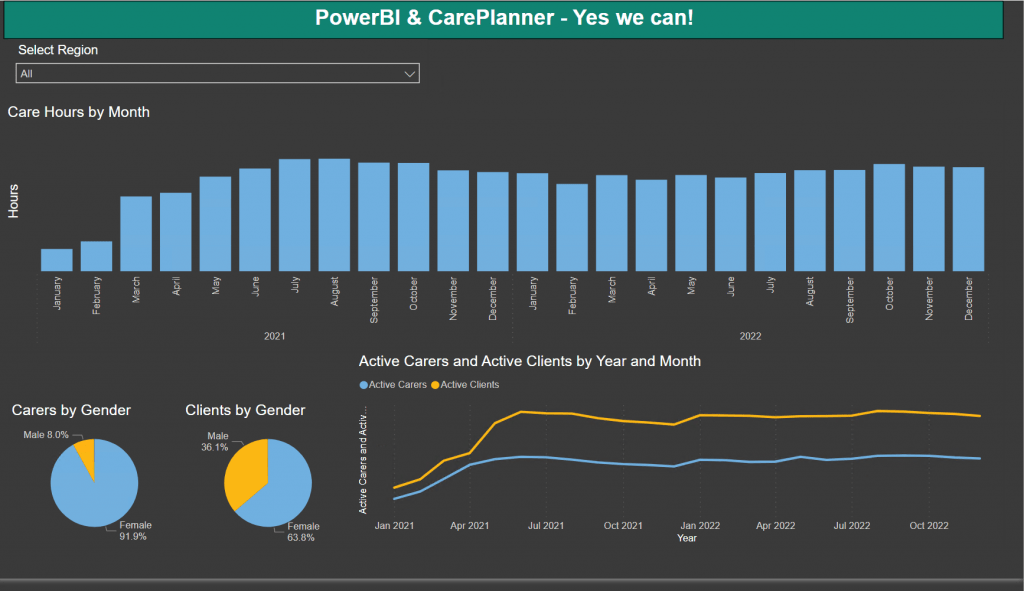 Yes, I know there are no numbers, there's a good reason for that!
Once designed, the PowerBI report can be securely published to Microsoft's PowerBI Service for viewing by authorised users. You can set a daily refresh or have live data.
If you'd like to know more, please use the form below. If you'd like to know the technical bits, keep reading.
---
Technical Bits
With the exception of PowerBI, this is all Open Source (Free!).
We've used Talend Open Studio to fetch the data from CarePlanner using their REST API. Talend has excellent support for REST and it's very easy to do any 'twiddly' bits using Java.
The data is then stored in a PostgresSQL database on either a Windows or Linux server. All helps to keep the cost down as cloud databases can get very expensive.
The it's just a case of designing the reports using PowerBI and publishing to PowerBI Service. That's the bit you pay for, but it's surprisingly inexpensive for such a powerful solution. If you'd prefer not to pay, there are options other than PowerBI.
Last bit, the data is stored in a secure database. That means it's inaccessible from the outside world. Microsoft's 'On-premises data gateway' lets just PowerBI access the data.